Carlos Sainz Jr will receive an entirely new set of Renault powertrain components after the McLaren Formula 1 driver suffered ignition wiring issues in qualifying for the Brazilian Grand Prix.
When left the pits at the start of Q1 at Interlago, Sainz immediately began to slow prior to starting his first flying lap – and was told to bring his car into the pitlane immediately.
The fault was traced back to an ignition wiring problem in his MCL34, and McLaren has elected to replace all of the power unit components – the internal combustion engine, turbocharger, control electronics, MGU-H, MGU-K and battery pack as a result.
Sainz will receive no penalty for doing so, as he was due to start at the back of the field having not set a time in qualifying.
Although article 34.6 of the official sporting regulations states that any modifications under parc ferme conditions will necessitate a pitlane start, Sainz will not do so because the power unit components are of the same specification.
McLaren has endured a difficult weekend in Brazil so far, with the twisting and undulating nature of the course exposing some of its 2019 car's weaknesses.
The team has particularly struggled with low-speed corners throughout the year, and although it has improved in that area over the season, the prevalence of its weaker corners throughout the Interlagos circuit has left it slightly exposed.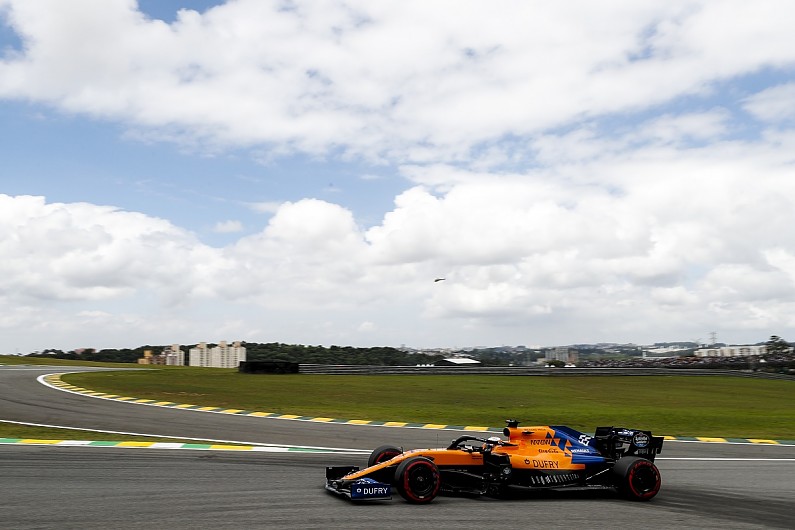 Lando Norris could only qualify 11th as a result, although was dismayed that he "didn't put it all together" over the team radio having been knocked out of Q2.
Sainz says he is facing the race with a "maximum attack" approach, although he conceded that the Pirelli tyres may stymie any further progress through the field.
"Obviously, maximum attack doesn't always work with Pirelli tyres," he said. "So it will be a compromise between managing the tyres and going maximum attack. So it's probably a very difficult thing to do, but somehow you must always find a way."