NASCAR Cup title contender Martin Truex Jr said he effectively raced with "half a team and an old car" at Phoenix last weekend as he prepared for the championship decider.
Truex, the 2017 champion, became the first driver to cement a place in the 'championship four' field for Homestead when he won the opening race of the 'round of eight' at Martinsville last month.
The Joe Gibbs Racing Toyota driver finished sixth in the subsequent Texas and Phoenix races but did not lead a lap.
Asked following Sunday's race how beneficial the last two weeks had been to prepare for next Sunday's title battle, Truex replied: "You know, for having half a team and an old car and not really working on it, I thought we had a second or third place car today, so that's pretty good."
That suggested Truex and JGR had put few resources into Phoenix as they prioritised Homestead.
A team spokesperson confirmed to Autosport that JGR sent car chief Blake Harris back to its North Carolina base on Saturday to continue work on the Homestead car, while another regular crew member skipped the entire Phoenix weekend for the same purpose.
The older car comment alluded to Truex's Phoenix car not being the most up-to-date car in the JGR fleet as more priority was put on his team-mates Denny Hamlin and Kyle Busch – who still needed to secure their places in the 'championship four' and did so with a 1-2 at Phoenix.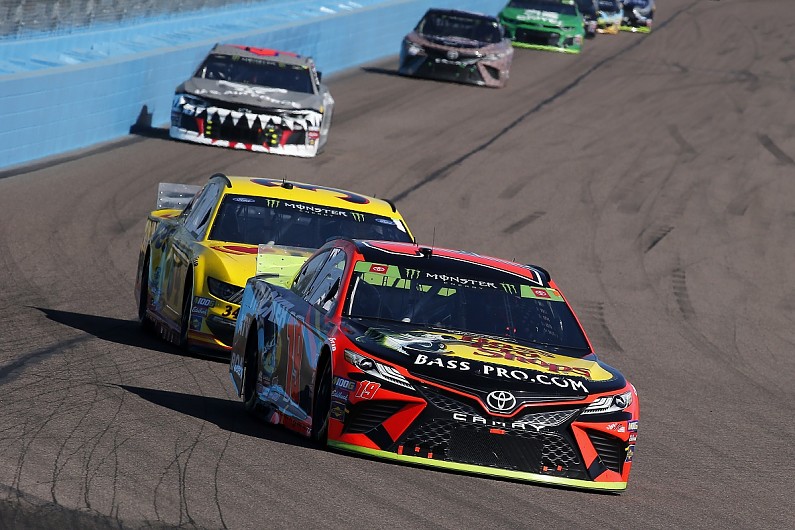 That means three of the four title contenders next weekend will be from JGR, with Truex, Busch and Hamlin up against Stewart-Haas Ford driver Kevin Harvick.
Truex still had a shot at winning at Phoenix, getting an opportunity to challenge for the lead on a late-race restart.
"I know we're ready for Homestead, and feeling really confident about that," he said.
"We had a really strong car on the long runs [at Phoenix], we just would get killed on restarts there.
"I'm excited for Homestead, and can't say enough about everybody back at JGR. To put three cars in the championship four is pretty incredible."
When Truex won his title in 2017, he was the sole driver at the Furniture Row team.
He admitted being part of a mostly intra-team championship showdown would be a challenge but was mainly a sign of JGR's strength.
"It's going to be interesting for sure," he said. "I feel like we're here for a reason, and that's because we all work together so well.
"Hopefully, we'll do that the same this week and throughout the weekend next weekend and then Sunday let the best team win."