Adam Carroll led from lights to flag in the Ferrari Challenge Europe opener at Mugello, as Louis Prette extended his championship lead over Niccolo Schiro.
A1GP champion Carroll, who joined the championship for round three at Spielberg, converted pole to a comfortable victory in his Ferrari Budapest-backed FF Corse entry, finishing 1.2s ahead of Octane 126 driver Bjorn Grossmann behind the safety car.
Carroll's early lead was scuppered when Miroslav Vyboh was spun into the gravel by Eric Cheung to bring out the safety car for the first time.
But the ex-Formula E racer never came under serious threat and was assured of victory when the safety car returned on the penultimate lap following Christian Overgaard's spin.
While Carroll led away, Prette got a bad start from the outside of the front row and dropped to fifth behind Grossmann, Schiro and the fast-starting Sam Smeeth (Baron Motorsport).
Smeeth then moved past Schiro into third with a well-timed move at the final corner, Bucine, on lap one.
The first appearance of the safety car gave Rossocorsa driver Schiro an opportunity to attack Smeeth when racing got underway again on lap six, but Schiro instead came under threat from Prette and had to concede the position to his main rival two laps later.
Prette then caught Smeeth, but was unable to find a way past the Briton and had to settle for extending his points lead over Schiro to 14 points with one race left to go.
In sixth overall, Emanuele Tabachi secured the Pirelli-Am title with class victory over Matus Vyboh, who just pipped W Series racer Fabienne Wohlwend to eighth.
Tari Hanna (Formula Racing) was confirmed as Coppa Shell champion with second in class behind James Weiland, while Henrik Jansen led home Ingvar Matteson in the Shell-Am ranks.
Jansen's victory puts him just four points behind class leader Agata Smolka, who could only finish fourth in class.
Controversy in North America race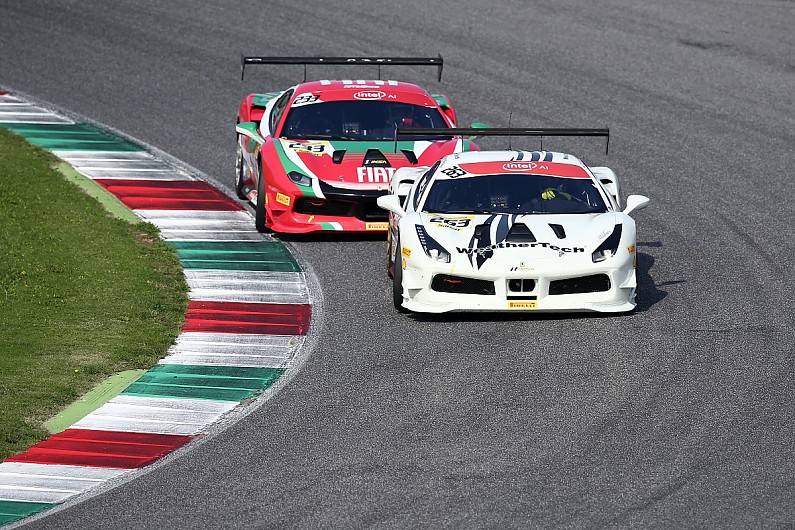 A post-race time penalty for Benjamin Hites gave Cooper MacNeil victory in a controversial conclusion to the opening North America race.
After rebuffing MacNeil's early challenge, poleman Hites (TR3) had managed a one second lead until he was delayed by lapped traffic at the Palgio left-hander.
That allowed Scuderia Corsa driver MacNeil to sweep around the outside and take the lead into the downhill right-hand hairpin, Correntaio.
But the six-time Le Mans starter was unable to get away and, after an oversteery moment at Turn 1 on lap 14, Hites was sat on his rear bumper starting the penultimate lap.
But they then came across the wreckage of Gianni Grilli's machine, which had lost its left-rear wheel on the pit straight and crashed heavily into the pitwall.
As MacNeil dodged the offending wheel, Hites lined him up for a pass and completed the move into Turn 1.
He crossed the finish line ahead, but a one-second penalty for Hites on the cool-down lap meant the positions were swapped, with MacNeil promoted to victory by 0.098s behind the safety car.
MacNeil's advantage has now been stretched to 13 points with one race remaining.
Ziad Ghandour (Boardwalk Ferrari) finished a lonely third and took victory in Pirelli-Am, which puts him level on points with Neil Gehani for the class championship.
Coppa Shell champion Mark Issa took class honours in fourth after Brian Davis was demoted to fifth by a one-second post-race penalty.
Jay Schreibman took the lead of the Shell-Am class with a victory over Brad Horstmann and carries a three-point advantage into tomorrow's race.
The Asia-Pacific race also finished behind the safety car, after a clash between Coppa Shell-Am rivals Kent Chen and Ray Wu caused the latter to crash out.
Their duel, which also involved class champion Andrew Moon, had been the highlight of a race that was largely decided as a contest after the start.
Japanese driver Go Max launched from third to the lead at the rolling start, while poleman Philippe Prette fell to fourth.
The five-time series champion, who sealed this year's title in the last round in Singapore, fought back to second but was unable to challenge Max for the win.
In the only Asia-Pacific title not yet settled, Makoto Fujiwara (Cornes Shiba) took Coppa Shell in third overall and with it the class lead by one point.
His nearest rival, Kazuyuki Yamaguchi, finished in fifth behind Nobuhiro Imada.