Denny Hamlin has explained why the crew chief switch that took him from a winless 2018 to a contender for this year's NASCAR Cup Series title has been a "game-changer".
Hamlin recorded the first winless campaign of his 13-year Cup career last season, despite a consistent run of results that allowed him to make the playoffs.
He exited at the round of 16 following poor results in the opening stretch of the playoffs, taking 32nd, 16th and 12th at Las Vegas, Richmond and the Charlotte Roval respectively.
Hamlin ended the season by splitting with crew chief Mike Wheeler after three seasons paired together and the JGR driver was then partnered with Chris Gabehart.
The Joe Gibbs Racing driver has praised Gabehart's impact on a Cup season that JGR has dominated – winning the regular season with Kyle Busch, and taking 15 victories from 32 races so far this year.
Asked how important his bond with Gabehart has been, Hamlin – who has won five times this season and is third in the points – said: "It's been a game-changer.
"He prepares differently. He does a lot of things, asks a lot of the right questions, questions I don't necessarily think of when we're debriefing between practices or even during a race.
"I think he has the bigger picture always in his mind of what we need to do to be better.
"A crew chief-driver relationship, that's such a huge part of success in the Cup series. Obviously switching to him has equalled success for us.
"We really got a good thing going. Hopefully, we can continue that momentum for at least four more weeks."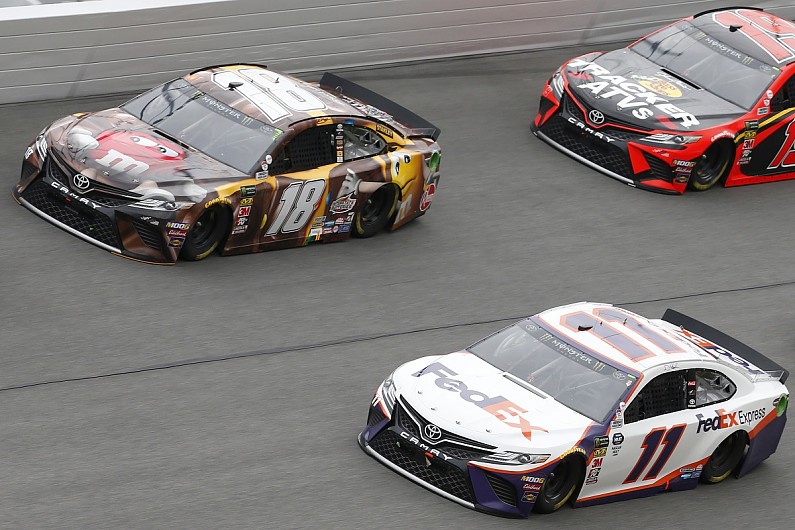 JGR could set a record by getting three drivers into the 'final four' at the Homestead season finale, with Martin Truex Jr, Busch and Hamlin currently holding the top three spots in the drivers' standings.
Asked if he felt more prepared than ever for a championship bid, Hamlin replied: "Yeah, I think certainly we're running as well as we ever have.
"We're contending for race wins week in, week out. We have great engines, great cars, great engineering.
"Everyone from TRD [Toyota Racing Developments] to JGR has really put together some good race packages at all types of different racetracks.
"Even though the next few weeks there's a variance of a short-track, a mile-and-a-half, then you've kind of got a short-track hybrid in Phoenix, we feel like we can win at every single one of them.
"That's one thing that not a lot of drivers can probably say, they feel like they can win at every single track they go to. That's been the case for us this year."
Hamlin added a "successful year is making it to Homestead" but he would not deem his season a "success or failure off of one race".