Andrea Dovizioso said he was "taking too many risks" and "braking like a stupid rider" when he was chasing Fabio Quartararo late in MotoGP's Japanese Grand Prix at Motegi.
Dovizioso was four seconds down on second-placed Quartararo after he had passed the other Petronas SRT Yamaha of Franco Morbidelli for third shortly following the halfway point of the race.
And while he had only reduced the gap to Quartararo to around two seconds by the end of lap 21 of 24, Dovizioso then managed three of his fastest laps in the race, closing to within half a second of Quartararo – and just 1.3s behind race winner Marc Marquez – by the chequered flag.
"I was faster just because I took too many risks and I braked like a stupid rider," Dovizioso said of his late-race pace.
"I locked the front too many times, but I saw Fabio really struggling.
"So that was my good point in the race, compared to everybody the braking was really good, especially Turn 11 [after the long straight], I was able to gain a lot. I was pushing in that area and was able to be smooth.
"Fortunately, even when I wasn't fast in the beginning, I was calm and I always rode in a smooth way. So in the end when the bike worked a bit better I was able to be faster."
Quartararo: It was like a victory battle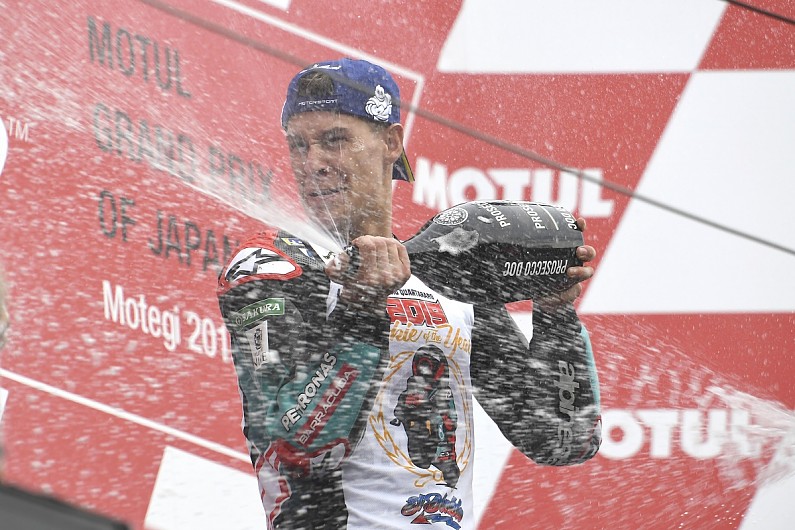 Quartararo said he was "pushing like it was for a victory" when Dovizioso appeared behind him.
The SRT rider led briefly on the opening lap, but was quickly passed by eventual race winner Marquez and was unable to run with him for the rest of the race.
Second looked comfortable, but a drop in grip with his soft tyre allowed the medium-shod Dovizioso to close.
"I tried to make the best start possible," Quartararo said.
"I could pass him [Marquez], but honestly he was super-fast, I couldn't go faster and I was really on the limit.
"At the end Dovi was four seconds behind, but he came like a bullet.
"It was really not easy to keep this second place because on the last lap I was pushing like it was for a victory, because it was really important points for the championship."
Learning from Marquez mid-race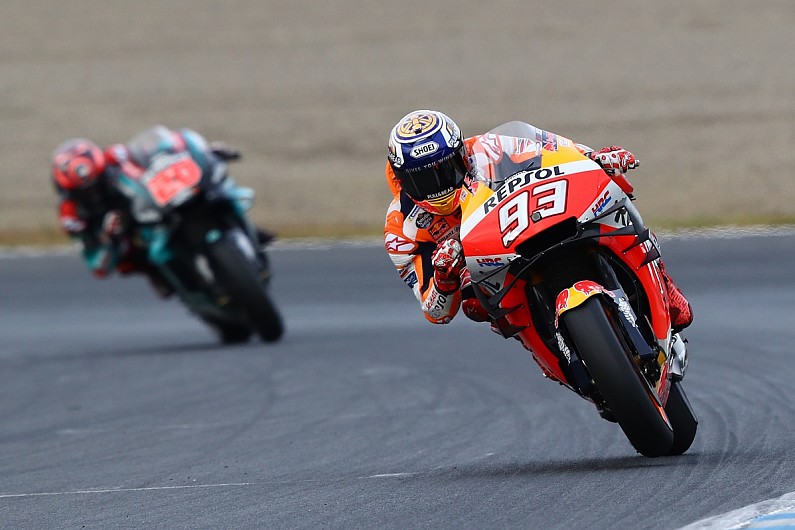 Quartararo admitted following Marquez, albeit at a distance, allowed him to adapt how he rode through Turn 1 compared to the rest of the weekend by copying the Honda rider's line, which helped him to preserve his rear tyre longer.
He added: "Actually Marc's pace was faster than us this weekend, but I analysed some lines [for] what we missed, and I think for saving the tyres it helped me a lot.
"Like corner one, during the qualifying, practice, I was carrying much more speed, and in the first corner I was going wide.
"I was doing the same line as him [Marquez in the race] and I think [this] helped us quite a lot to save the tyre.
"I wasn't close enough to see exactly what we missed, but it's true that acceleration, also with used tyre, we struggle a lot, so that's an important point to improve.
"Again a race that we learned to manage the tyre, even if at the end we struggled, we managed to get good lap times in another way, and I think that's something that we learned mainly here."
How Dovizioso dismissed Vinales
Before he set out on his late chase after Quartararo, Dovizioso fought off a spirited charge from Maverick Vinales – overcoming the Yamaha rider's superior corner speed through better acceleration and more straightline performance.
"I never saw Maverick during the race, but I could hear easily in the middle of the corner he was much faster," Dovizioso recalled.
"He tried to overtake me a lot of times, but maybe it wasn't really aggressive. I tried to close the doors and stop him in the middle of the corners, and accelerate better, because our bike accelerates better.
"But in the fast corners, like 6, 7 and 8, I couldn't stop him because it was a fast corner, and he tried many times. But the lap time was still good – 1m46.4s, when I was battling with Maverick.
"The last four laps I knew he had the soft [rear] tyre, and when I saw also Fabio struggling, I tried to attack and take some risks on the braking, I was able to manage it, so for him [Vinales] it was difficult to stay with me, and I almost caught Fabio."
Quartararo's 2019 targets smashed
Quartararo's second at Motegi on Sunday secured him the rookie of the year title, and he is now just 13 points off third-place in the standings with a current total of 163 – at least 73 more than the target set by his team pre-season.
"Really pleased, because in the Malaysia test we set a goal, was to score between 50 and 90 points, and be rookie [of the year]," he said.
"Actually it's much higher than what I expected. I'm really happy for the team because it's our first year – my first year in MotoGP but also the first year for the team.
"So, I hoped we will have this title for the team."