Lewis Hamilton believes he could have won the Japanese Grand Prix with "better guidance", but Mercedes Formula 1 boss Toto Wolff said the strategy always leaned towards Valtteri Bottas triumphing.
In the latter stages of the Suzuka race it appeared that Hamilton might have a chance of beating Bottas to the win had he stayed out and done a one-stopper.
Mercedes had initially suggested over team radio that Hamilton would follow that strategy with Bottas stopping twice and having to repass his team-mate on the road.
But the team switched Hamilton to a two-stop based on the early degradation levels, with Bottas having rapidly charged up behind him on his fresh tyres after his first stop.
Hamilton, who ended up finishing third behind Sebastian Vettel's Ferrari, felt he could have made it to end on his second set of tyres, while conceding that he had been told he would stop again – which meant that he had no concerns about pushing and using them up.
"The team put me on a two-stop," he said. "So I knew already when they put the medium on, that was going to be the case.
"With better guidance I think I probably could have [gone to the end].
"They said, when they put the tyre on, that we are going a two-stop because the degradation is high.
"[That was] just the direction I was given in terms of having to try and close the gap to Seb. So every time I was having to close this gap, so used the tyres quite a lot.
"So in how I was using them, there was no way I was going to make it to the end on that.
"If I had, from the beginning, said we're just going to eke it out and just see if we could manage it, then I could have just driven differently and, potentially, held it to the end – but all in hindsight."
Wolff admitted it was a "50/50" decision to pit Hamilton a second time, and hinted that had he left the world championship leader out there might have been a scenario where the team asked Hamilton to let Bottas through.
"There were lots of tricky calls in this race," Wolff said.
"Obviously Valtteri not blinking an eyelid when Seb stalled [crept forward on the line and then stopped] and getting into the lead was the decisive moment of the race.
"Lewis in third was always a little bit between a rock and a hard place.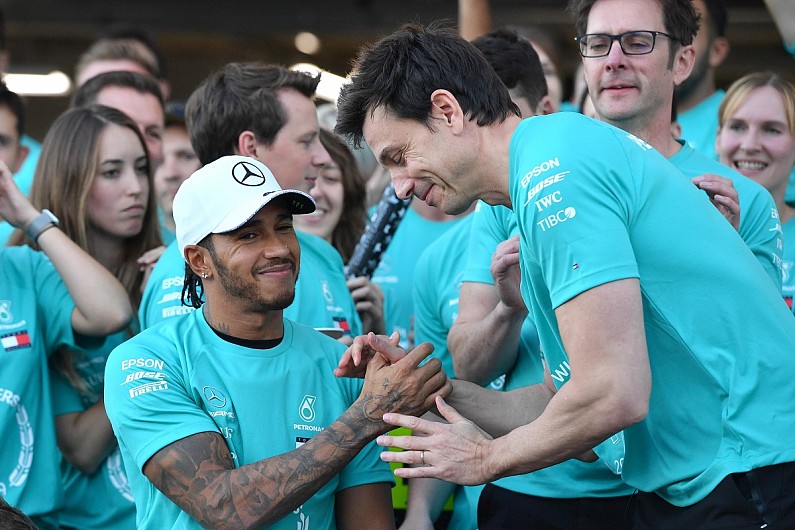 "Once you're in the lead you need to protect your position – if you are third you can take more risks, and more chances.
"And what we did is we protected the lead with Valtteri, and we took the pace out of his race once Sebastian pitted for his second stop.
"So it was always clear it would always go towards Valtteri – we are not playing team-mates against each other with strategy.
"But then you could say we could have assured a second place.
"I think that pitting Lewis again at the end again was a 50/50 call.
"We could have left him out and tried to ask the drivers, or asked the drivers, to change position, to give the result back and maybe protect it against Sebastian. But on the other side maybe not protect it against Sebastian.
"So pitting and giving him a new set of tyres was the decision that was being taken, and at that stage it felt like the right decision."
Wolff thought it unlikely that Hamilton would have made it to the flag without hitting tyre problems.
"Both tyres dropped suddenly, you could see they were pretty robust and then from one lap to the other the drivers felt there was no grip anymore, and both of the drivers said it," he added.
"And when we changed Lewis for the second time, his feedback was that the tyre was losing grip and at that stage it would have been very difficult to defend against Sebastian.
"It was never a question with Valtteri, because he knew what we were going to do anyway."
At times during the race Hamilton challenged the team's calls, and particularly the decision not to fit the hard tyre at his first stop – which he felt might have allowed him to run to the end.
Wolff said he had no problem with his drivers questioning decisions.
"It's not hard at all because we completely acknowledge that the driver is eager to win and wants to maximise every opportunity," he said when asked by Autosport about Hamilton's comments on the radio.
"And if you don't that is simply annoying. I think we completely understand each other's position.
"And Lewis knows that very well and has complete understanding.
"For us in the garage and on the pitwall it's very difficult to make decisions to ensure maximum points.
"As long as you embrace the different positions, we have always come back and discussed it and moved forward as an even stronger unit."