Data from Marc Marquez's frightening high-side crash in Thailand Grand Prix MotoGP practice reveals he hit the asphalt with a 26.14g impact and that the accident lasted 4.81 seconds.
The Honda rider was flicked from his RC213V at Turn 7 while on an out-lap in the latter stages of the first 45-minute practice session of the Buriram weekend on Friday morning, and had to go to hospital for precautionary checks.
He was soon declared fit and was back in action for practice two that afternoon, and later explained the cause of the crash was down to him completely closing the throttle and the engine braking locking the rear.
Data provided to Autosport by rider leathers manufacturer Alpinestars reveals the exact moment Marquez's airbag safety suit deployed, the duration of the crash and the force with which he hit the ground.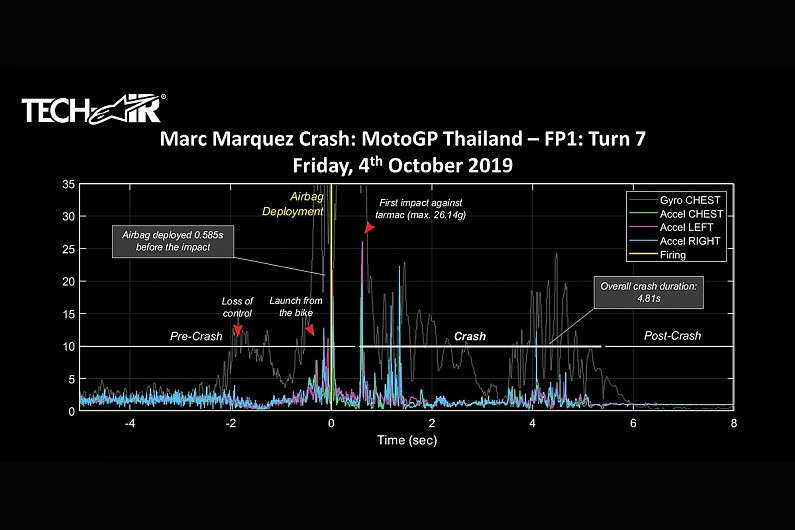 As the above chart shows, Marquez lost control suddenly – as clearly marked by gyroscopic sensor (grey line) fitted in the chest section of his suit.
The brief dip of all coloured traces marks when the rear tyre gripped again after the initial slide, and the sensors detecting that there is an issue but that the rider may be in control – which is why the actual bike highside is not considered a crash on that data.
The traces spike again when he has been launched from the bike.
With all four of the sensors attached Marquez's suit now detecting a potentially serious issue is occurring, it decides to deploy the airbag.
Marquez's airbag suit activates 0.585 seconds before he slams down on the asphalt with the right-hand side of his body.
The sensors in Marquez's Alpinestars suit feed data back to the microprocessor every 0.002s, hence the almost instantaneousness of the deployment of the airbag when the system understood the data being received was abnormal.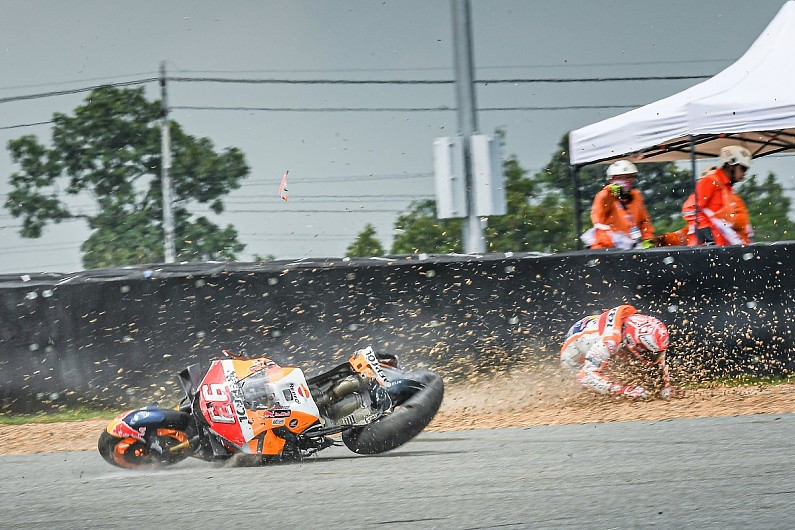 Marquez's suit registered a g-force impact of 26.14g when he hit the ground, with the already-deployed airbag now absorbing that. Further smaller spikes follow as he tumbles through the gravel while the flying bike's rear wheel is ripping off by the time the crash has finished.
From the airbag going off to coming to a halt after sliding into the gravel trap, the suit noted a crash time of 4.81s.
Alpinestars' airbag system will stay inflated and offer full upper body protection to a rider for five seconds.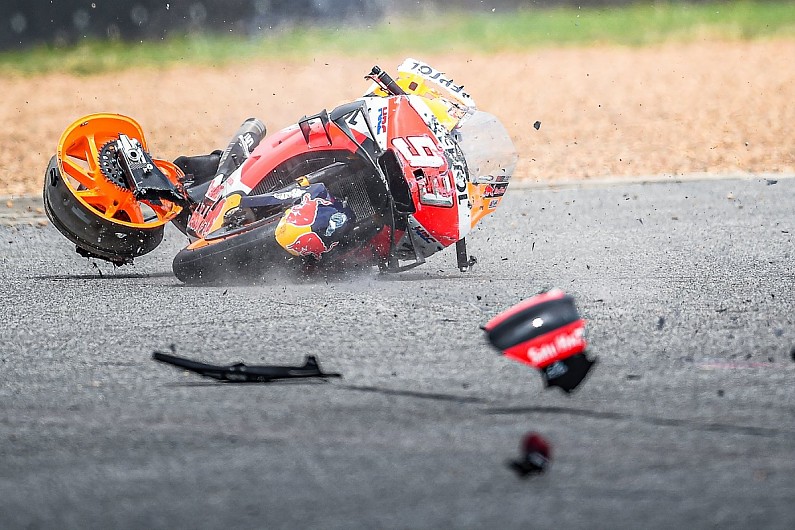 Amazingly, wearing an airbag suit was not mandatory in MotoGP until last year – with several riders across the classes previously opting against running them.
For Marquez to have such an accident and be back on the bike and on the pace just hours later is testament to the advances made in this area of rider safety.