Craig Breen's chances of driving a Hyundai World Rally Championship car on the season-closing Rally Australia rest on a good performance from his rival team-mate Dani Sordo on Rally Spain.
Sordo, who misses this week's Wales Rally GB, sits 10th in the driver's standings – but he is only 22 points off fourth place.
A strong outing at home from Sordo would probably rule Breen out of Rally Australia because Hyundai Motorsport director Andrea Adamo will want a driver sitting as far down the championship standings as possible.
This would be so Hyundai can benefit from the cleanest and quickest possible conditions coming from a day-one start position at the back of the World Rally Car pack.
Adamo told Autosport he would not make any decisions about his team heading to Australia until after the penultimate round in Spain.
Adamo said: "Australia is a place where road cleaning is very important. Let me see where Dani [Sordo] is after Catalunya.
"You can be the fastest man in the world, but if you clean the road for the others then you are finished.
"I want to see the standings, and then I will decide."
Breen dropped down the order at Hyundai's behest to benefit his team-mates, finishing seventh on his single start in the WRC this season – Rally Finland – and currently sits six places below Sordo.
Jyvaskyla was Breen's first start with Hyundai, but his performance in Finland put him in contention for further outings.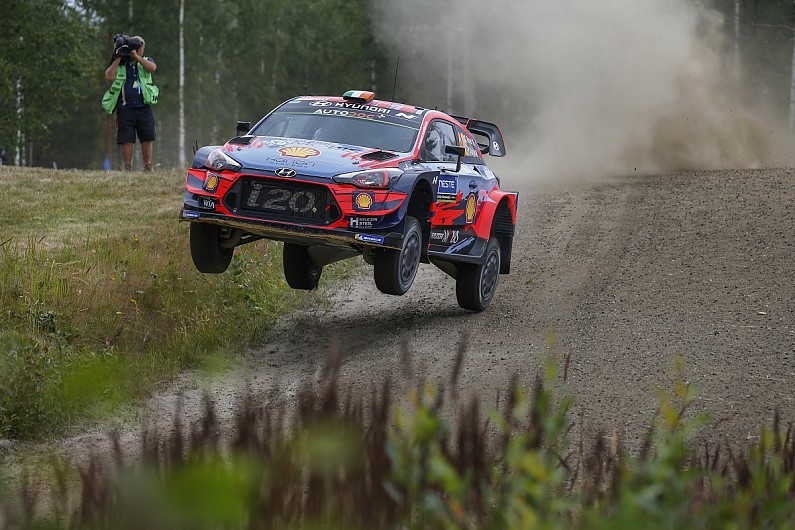 "I'd do anything to go to Australia," Breen told Autosport. "I'd love to go back there to right all the wrongs of last year.
"I left with some horrible memories, so I really want to go back there and do a good job for Hyundai.
"But it's down to whatever cards are best to play before the rally.
"Andrea is playing a fantastic game, he's doing absolutely everything in his power to win the championship and I have to make myself the, I guess, the third-strongest card to play in Australia.
"It's up to us in GB, and what Dani [Sordo] does on the rallies – Catalunya – towards the end of the year. "It's out of my control. All I can do is do my best on GB."
Breen returned to an i20 Coupe WRC in Dyfi forest in Wales recently, driving the car for the first time since his strong Rally Finland outing in the summer.
The Irishman completed around 150 miles of running in what looks to have been some of the best conditions available.
"The test went really well," said Breen. "We worked on the car through the day and I felt confident in it.
"I'm really happy with the way it finished and I definitely think we have the package to do something good."
Win a ride in Colin McRae's Subaru driven by Sir Chris Hoy! Click here