Ferrari Formula 1 team boss Mattia Binotto insists that the Russian Grand Prix was running to plan before Sebastian Vettel's MGU-K failure prompted the appearance of the virtual safety car.
At the start, Ferrari's tactic had been to allow Vettel to get a tow into the first corner from polesitter Charles Leclerc, while ensuring front-row starter Lewis Hamilton could not benefit.
Vettel jumped past his team-mate into the lead, with the plan to adjust the order later in the race, and Binotto explained that Leclerc had agreed to not defend his lead from Vettel into Turn 2.
"Looking at the past races in Russia, we know that it's important to be ahead at the first lap," said Binotto.
"Normally if you start first, you may finish first.
"As a team obviously the victory was key, so we decided that the most important thing for us was to be first and second at the first lap, because we would have controlled and managed the pace, and controlled the positions.
"Which is what was happening, and without any reliability issues certainly we would have kept positions after the pit stops.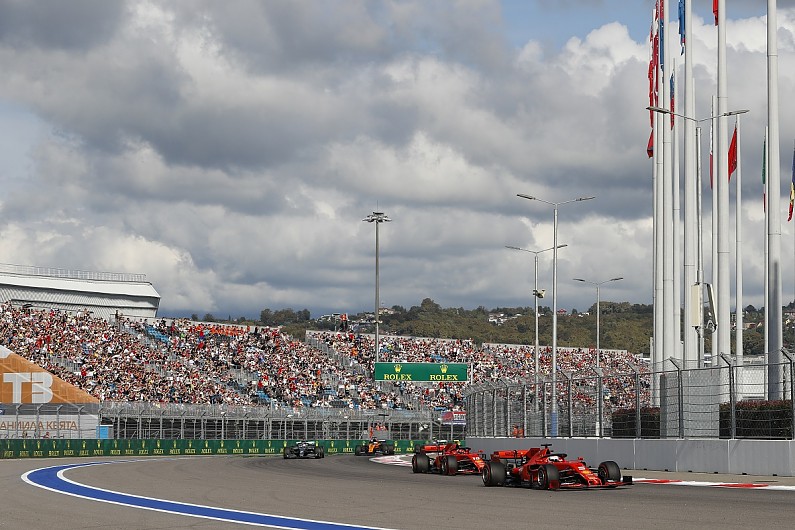 "Being first and second was the first objective. We agreed together that the best way was not to give any slipstream to Hamilton first, and therefore Charles would have given the slipstream to Seb.
"That was what we agreed, by giving the slipstream to Seb and not defending the position would have given an advantage to Seb which later on in the race we would give back by swapping the cars. So that was the deal.
"I think what happened was exactly what was explained, they got a good start, Charles stayed on the left, Sebastian jumped Hamilton, and was [then] in the slipstream of Charles."
Leclerc made it clear on the radio that he wanted to be let past, but Binotto insisted that the team did not necessarily bank on an early swap of positions.
"The start went as planned, and therefore we thought it was right to ask Seb to swap positions.
"We initially asked Seb to give the position back, but fair enough to say at that stage of the race maybe Charles was not close enough, and we would have lost some time on track.
"Later on Seb was quite fast and gained some track advantage on Charles."
Leclerc eventually benefitted from a pitstop undercut to clear Vettel, but Binotto explained Leclerc's greater tyre wear was the reason that Ferrari opted to pit him first.
"The undercut was because Charles stopped because he had worn tyres – left rear was starting to be worn, so it was the right moment for him to pit.
"We knew as well that if we stopped both our cars there we would have been vulnerable on safety cars, by leaving the lead to Hamilton.
"We tried to stay out as much as we could with Seb, simply to protect in case of safety cars at that period of the race."