Formula 1 race director Michael Masi says he is continuing to work with teams and drivers to address the "shades of grey" in the FIA's interpretation of driving standards.
Masi was instrumental in bringing back the use of the black and white warning flag, F1's equivalent to a yellow card, and it was deployed for the first time in a decade for Toro Rosso's Pierre Gasly at Spa for moving under braking.
Ferrari's Charles Leclerc then received a warning for the same offence as Gasly when battling Lewis Hamilton for victory, pictured below.
Ahead of the Singapore Grand Prix, there was an extensive discussion on the flag system in the drivers' briefing, with a particular focus on moving in the braking area.
Several incidents were then investigated during or after Sunday's eventful race, but none led to penalties or warning flags, and Masi is confident all involved understand where the FIA draws the line on offences.
"I've set down where I thought the boundaries are," said Masi when asked by Autosport.
"And the drivers, in the end, agreed that we're all happy to continue to work together to try and define in their view what those boundaries are. So that was the consensus that we came to in the end.
"There's moving under braking, there's a couple of other bits and pieces, but what we saw today and following the discussion that we had in the drivers' meeting, they were all quite well behaved in that area.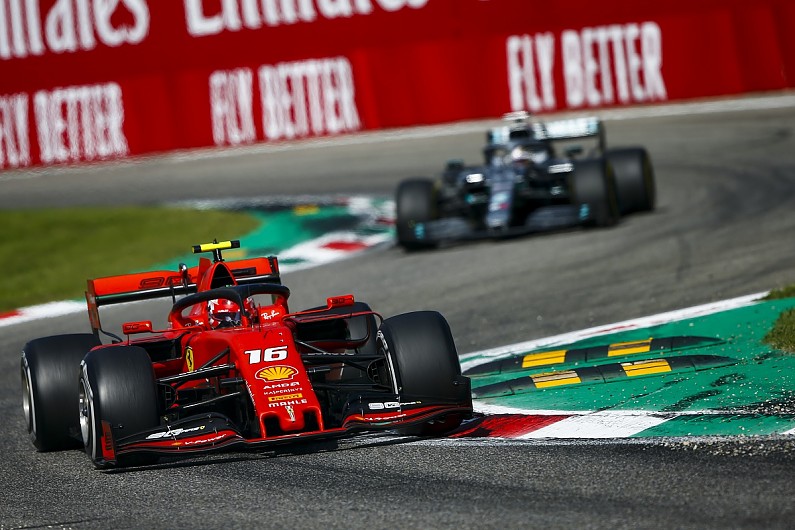 "It's been one of those where I've said previously from my perspective it's working with them to ensure as best as possible [so] we're collectively, including the teams, on the same page.
"Let's continue working through to the end of the year and try and eventually define what the boundaries are – where those shades of grey sit, effectively.
"For me, the key part was to try to ensure from my end that working with the key people in the F1 group, obviously the teams and drivers and from an overall FIA end, [were] working together to get a picture of what everyone wants.
"I'm not of the view of this is what it is, and end of the story. It's my first year. It's just a matter of working on that with all of them."
Masi says the consensus of the warning flag is that it is "a good thing".
He added: "It's there, it's always been there, it's just a public way of doing what always happened.
"It was previously a one-on-one warning over the radio with the team. Now everyone knows."
Masi added that the use of warning flag will be influenced by the type of incident and circuit.
He continued: "You've just got to judge each one on its merits at the time. [In the Singapore race] it was all quite good and they were all quite well behaved."