Alexander Rossi says qualifying for this weekend's IndyCar double-points season finale will be "critical" as overtaking at the series' return to Laguna Seca is expected to be tough.
Laguna Seca returns for the first time since 2004, and while the current generation of Indycar allows for closer racing than its predecessor, overtaking is expected to be at a premium.
Andretti Autosport driver Rossi trails series leader Josef Newgarden by 41 points heading into the event, with 104 on offer for a combination of pole position, win, leading a lap and most laps led.
---
How the IndyCar title can be won
As it stands, Newgarden leads Rossi by 41 points, Penske team-mate and 2016 champion Simon Pagenaud by 42 points, and defending champion Scott Dixon by 85 points.
For Newgarden, the title can be wrapped up by finishing fourth or better as even if Rossi wins and scores all bonus points, as he would be unable to make up sufficient ground.
Even fifth could be enough for Newgarden, but only if Rossi and Simon Pagenaud fail to clinch any bonus points alongside victory at Laguna Seca.
A sixth title for Scott Dixon is looking very unlikely as he would require victory and a full set of bonus points, Newgarden finishing 23rd in a 24-car field, as well as Rossi and Pagenaud finishing sixth or worse.
---
"I've been saying for a while this championship very well could be decided in qualifying at Laguna," said Rossi.
"It's no secret that we're expecting it to be a challenging race to pass just because of its history.
"It's 100% going to be a critical qualifying session that you're going to have to be inch-perfect and nail it through all three rounds.
"The guy that's on pole, if he's one of the guys who's in the championship fight, it's going to make their job to win the thing a whole lot easier."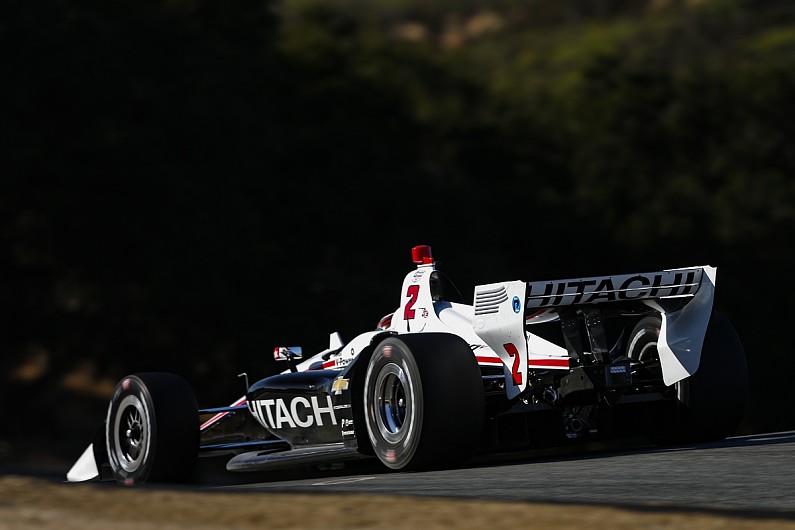 Reigning IndyCar champion Dixon is the only title contender with the advantage of having raced in Indycar at Laguna Seca but is 85 points adrift of leader Newgarden.
Many of the drivers have raced at the track in other series.
The circuit is prone to dust and dirt being blown onto the track, which Rossi believes will make the race "exciting".
"Obviously we're going into next weekend with a lot of unknowns in the fact that most drivers haven't raced [IndyCars] at Laguna Seca before," Rossi added.
"It's been a long time since Indycars were racing there. "The test that we had in February was fairly inconclusive, just due to weather and the time of year that we were there. [So] it's a blank slate for everyone.
"I think that's exciting. It will definitely reward the team and the drivers that come to grips with everything the quickest.
"It will probably reward them with a championship…
"It's a very low-grip surface. It's one of those tracks where you're going to see the cars sliding around a lot, guys working the wheel.
"There's dirt runoffs, drop wheels, throw dust on the track, that sort of thing. From that standpoint, it's pretty tricky."