Colton Herta fended off Will Power to win the IndyCar season finale at Laguna Seca as Josef Newgarden secured his second series title.
Newgarden went into the first top-line US single-seater race at the California circuit since 2004 with a comfortable 41-point advantage in the championship table, and his eighth place finish was enough to clinch his second title in three seasons with a 25-point buffer over Penske team-mate Simon Pagenaud.
Pagenaud began the race as something of an outside bet behind Newgarden and Alexander Rossi in the standings, but passed Newgarden on lap 16 of the 90 and spent much of the race pressuring Scott Dixon, another championship outsider, for a podium spot.
Pagenaud ran Dixon close in the final few laps, but couldn't find a way past the outgoing champion for third – and in any case needed a win to stand any chance of claiming a second title.
Race winner Herta led much of the distance, and beat Power, who played his pit strategy well to move into contention for the win, by just over half a second – adding to his family's achievements at the track where his father Bryan won twice in CART Champ Car.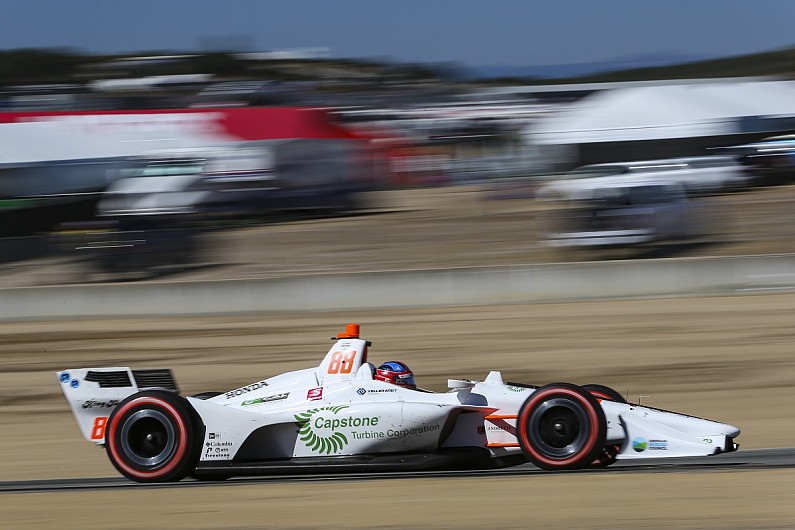 Power emerged from his final pitstop on lap 67 just behind Herta, and remained on his tail until the end of lap 86 when he ran wide at the final corner – all but ending his hopes of winning for the third time in four races.
Felix Rosenqvist bounced back from a controversial penalty in qualifying to carve his way through the field from 14th to fifth ahead of championship contender Rossi and wrap up rookie of the year honours.
Rossi was expected to mount the strongest challenge to Newgarden, but the Andretti Autosport driver struggled with rear tyre degradation for much of the race and struggled to keep the pace with the leaders. His struggles dropped him to third in the final series standings, behind Pagenaud.
Outside of the battle for championship honours, Sebastien Bourdais finished seventh, ahead of the cautious Newgarden, while James Hinchcliffe battled through neck pain to finish ninth, with Ryan Hunter-Reay completing the top 10.
There was only one caution period during the race, on lap 45, after Conor Daly became stranded on a kerb after spinning at the Turn 2 hairpin when battling with Marco Andretti.
Santino Ferrucci and Ed Jones were the only retirements from the race. Both were involved in an incident with Takuma Sato at Turn 2 on lap 49, during the restart from the caution period, but a second yellow flag was avoided.
Race result


| Pos | Driver | Team | Car | Laps | Gap |
| --- | --- | --- | --- | --- | --- |
| 1 | Colton Herta | Harding Racing | Dallara/Honda | 90 | 1h53m56.9845s |
| 2 | Will Power | Team Penske | Dallara/Chevrolet | 90 | 0.5878s |
| 3 | Scott Dixon | Chip Ganassi Racing | Dallara/Honda | 90 | 6.2404s |
| 4 | Simon Pagenaud | Team Penske | Dallara/Chevrolet | 90 | 6.3545s |
| 5 | Felix Rosenqvist | Chip Ganassi Racing | Dallara/Honda | 90 | 9.5206s |
| 6 | Alexander Rossi | Andretti Autosport | Dallara/Honda | 90 | 10.3637s |
| 7 | Sebastien Bourdais | Dale Coyne Racing | Dallara/Honda | 90 | 10.6831s |
| 8 | Josef Newgarden | Team Penske | Dallara/Chevrolet | 90 | 19.0447s |
| 9 | James Hinchcliffe | Schmidt Peterson Motorsports | Dallara/Honda | 90 | 22.8186s |
| 10 | Ryan Hunter-Reay | Andretti Autosport | Dallara/Honda | 90 | 24.7944s |
| 11 | Marcus Ericsson | Schmidt Peterson Motorsports | Dallara/Honda | 90 | 25.7806s |
| 12 | Graham Rahal | Rahal Letterman Lanigan | Dallara/Honda | 90 | 26.6517s |
| 13 | Max Chilton | Carlin | Dallara/Chevrolet | 90 | 27.0743s |
| 14 | Marco Andretti | Andretti Herta | Dallara/Honda | 90 | 54.4314s |
| 15 | Charlie Kimball | Carlin | Dallara/Chevrolet | 90 | 56.5862s |
| 16 | Tony Kanaan | AJ Foyt Enterprises | Dallara/Chevrolet | 90 | 1m05.8739s |
| 17 | Matheus Leist | AJ Foyt Enterprises | Dallara/Chevrolet | 90 | 1m06.5640s |
| 18 | Zach Veach | Andretti Autosport | Dallara/Honda | 90 | 1m07.9267s |
| 19 | Jack Harvey | Meyer Shank Racing | Dallara/Honda | 90 | 1m10.7956s |
| 20 | Spencer Pigot | Ed Carpenter Racing | Dallara/Chevrolet | 89 | 1 Lap |
| 21 | Takuma Sato | Rahal Letterman Lanigan | Dallara/Honda | 89 | 1 Lap |
| 22 | Conor Daly | Andretti Autosport | Dallara/Honda | 89 | 1 Lap |
| 23 | Ed Jones | Ed Carpenter Racing | Dallara/Chevrolet | 51 | Mechanical |
| 24 | Santino Ferrucci | Dale Coyne Racing | Dallara/Honda | 48 | Contact |
Drivers' standings

| Pos | Driver | Points |
| --- | --- | --- |
| 1 | Josef Newgarden | 641 |
| 2 | Simon Pagenaud | 616 |
| 3 | Alexander Rossi | 608 |
| 4 | Scott Dixon | 578 |
| 5 | Will Power | 550 |
| 6 | Felix Rosenqvist | 425 |
| 7 | Colton Herta | 420 |
| 8 | Ryan Hunter-Reay | 420 |
| 9 | Takuma Sato | 415 |
| 10 | Graham Rahal | 389 |
| 11 | Sebastien Bourdais | 387 |
| 12 | James Hinchcliffe | 370 |
| 13 | Santino Ferrucci | 351 |
| 14 | Spencer Pigot | 335 |
| 15 | Tony Kanaan | 304 |
| 16 | Marco Andretti | 303 |
| 17 | Marcus Ericsson | 290 |
| 18 | Zach Veach | 271 |
| 19 | Matheus Leist | 261 |
| 20 | Ed Jones | 217 |
| 21 | Jack Harvey | 186 |
| 22 | Max Chilton | 184 |
| 23 | Ed Carpenter | 161 |
| 24 | Conor Daly | 149 |
| 25 | Charlie Kimball | 117 |
| 26 | Patricio O'Ward | 115 |
| 27 | Sage Karam | 39 |
| 28 | James Davison | 36 |
| 29 | Helio Castroneves | 33 |
| 30 | Ben Hanley | 31 |
| 31 | Pippa Mann | 28 |
| 32 | Kyle Kaiser | 22 |
| 33 | J.R. Hildebrand | 20 |
| 34 | Oriol Servia | 16 |
| 35 | R.C. Enerson | 13 |
| 36 | Jordan King | 12 |