Mercedes Formula 1 boss Toto Wolff expects it to be "really difficult" to overtake Singapore Grand Prix polesitter Charles Leclerc without an "enormous" pace difference.
Leclerc surprised Mercedes and Red Bull by putting his Ferrari on pole position, although Mercedes driver Lewis Hamilton will line up alongside him.
Hamilton has hounded Leclerc in the past two races but such relentless pressure comes at a bigger cost in Singapore, which is a long race that takes its toll on the drivers, cars and tyres.
Wolff said: "I think it's more difficult here, it's a little bit like Monaco, maybe not as bad, where it's really difficult to overtake – especially when they are fast down the straight – unless the pace difference is enormous.
"We don't expect that [pace difference]. Nevertheless we're going into the race tomorrow full steam ahead. The points are being awarded tomorrow, not today."
Hamilton has won the last two grands prix in Singapore and taken four victories in total at the Marina Bay circuit.
Mercedes had an advantage during the Friday practice long-run work, but Wolff is not convinced that will be enough to overhaul Ferrari now Leclerc has track position.
"Obviously if you're fast on one lap you've got to have the heat in the tyres for this one lap and it's something that can bite you on a race distance," he said.
"But having said that once you are in front you have a decent opportunity in managing from there.
"I'd rather be on pole with a slightly compromised car than have a great race car but not be on pole."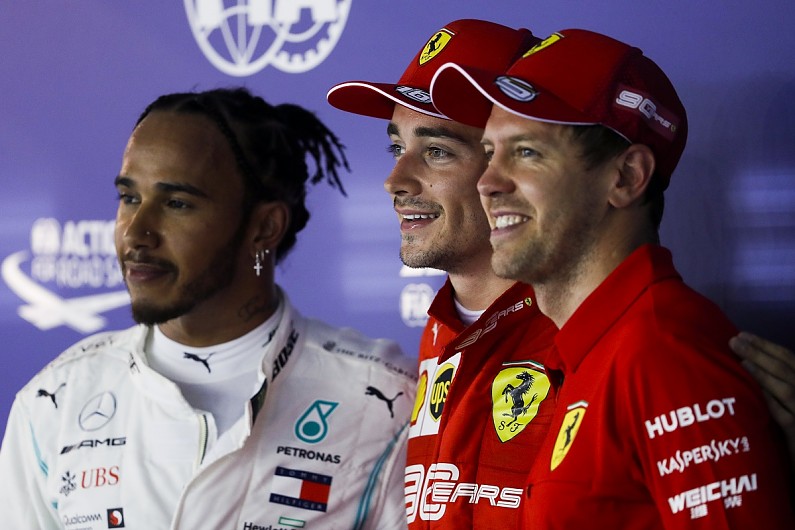 Hamilton's final lap in Q3 got him onto the front row ahead of the second Ferrari of Sebastian Vettel. He believes that could be a significant factor for Sunday's race.
"Charles obviously put some great laps in and it really needed something special at the end so I gave it absolutely everything I had," he said.
"It was very, very close to the wall a couple of times but it was as much as I could get out of the car.
"I'm very, very happy to be on the front row in the mix with them so we can try to divide them [in the race]."
Hamilton questioned whether Leclerc's driving in their fierce battle in the Italian Grand Prix was acceptable but said afterwards that he would change his approach if the rules have been clarified.
After qualifying in Singapore he said "tomorrow we can be aggressive", and when asked if that meant "different to Monza", Hamilton replied: "Ha! Well, it's a street track, but we'll see."
Verstappen pessimistic about race chances
Max Verstappen had been fastest in opening practice in Singapore on Friday but could only qualify fourth.
He had no "clear answer" for his Red Bull team's lack of pace after qualifying and doubted he could progress in the race as he said the long runs on Friday had been disappointing.
"Of course I'm disappointed with the result," he said when asked about qualifying by Autosport.
"[Friday] felt alright, but not amazing. Some corners we were lacking and we couldn't really explain why.
"[On Saturday] we couldn't make the gains like we wanted to compared to Mercedes and Ferrari. Clearly that hurt us in qualifying.
"If you ask me why, the balance was alright, but just not enough grip on some corners I guess.
"I think the last sector was pretty OK, but even when driving I felt there was more potential, but just couldn't use it."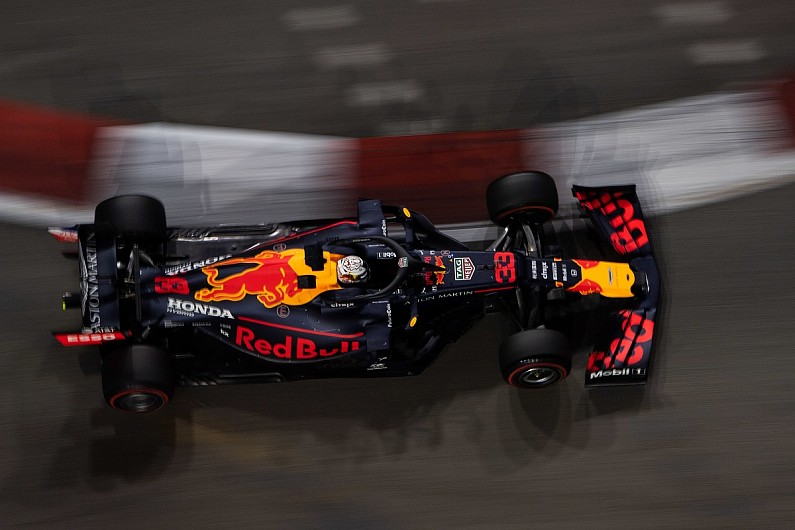 He added that "to be honest starting fourth is not very promising of course to try and win the race" and said "at the moment we can't expect anything".
Singapore was the first proper qualifying battle between Verstappen and his new team-mate Alex Albon after the Red Bull drivers took penalties at Spa and Monza.
Rookie Albon, who admitted that he struggled on his first visit to the Marina Bay track, was 0.6s off Verstappen in Q3.
"It's OK, it's not great though, and I would want to be doing better than that," Albon said when asked about his performance by Autosport.
"The track's not easy, it's one of the tracks with the biggest gaps between drivers in a general sense.
"To be honest through qualifying it was a little bit of a lack of experience really.
"The car went away from me a bit all through until the last run in Q3 and we did a couple of changes and it went a lot better.
"If I knew that before obviously I would have made that call earlier in the session in Q1 or Q2. "So I'm kind of learning. If I did it again I would have made quite a few changes."
Adam Cooper