Felix Rosenqvist has slammed IndyCar race officials as "maybe having something against me" after his two fastest qualifying times were deleted at the Laguna Seca finale.
Rosenqvist ran wide and spun on the exit of Turn 6, the left-hander leading onto the climb towards the Corkscrew, early in the second part of Laguna qualifying on Saturday.
The Ganassi driver was just ahead of Arrow Schmidt Peterson Motorsport's James Hinchcliffe at the time.
That led IndyCar stewards to delete Rosenqvist's two fastest times as a punishment for impeding Hinchcliffe.
That was despite Rosenqvist keeping his engine running and rejoining, and not causing a red flag. He ended up fastest in the session but that time was discounted and he will start 14th.
The officials had the option to give the more lenient penalty of just deleting his fastest time.
Rosenqvist's biggest argument was that the incident occurred during the laps when drivers were on the harder, black, tyres rather than the red tyre running that would set the fastest times.
"I don't know what they were thinking," he said to NBCSN.
"That lap didn't mean anything for anyone. I had a spin, then they were saying that I blocked someone while I was spinning.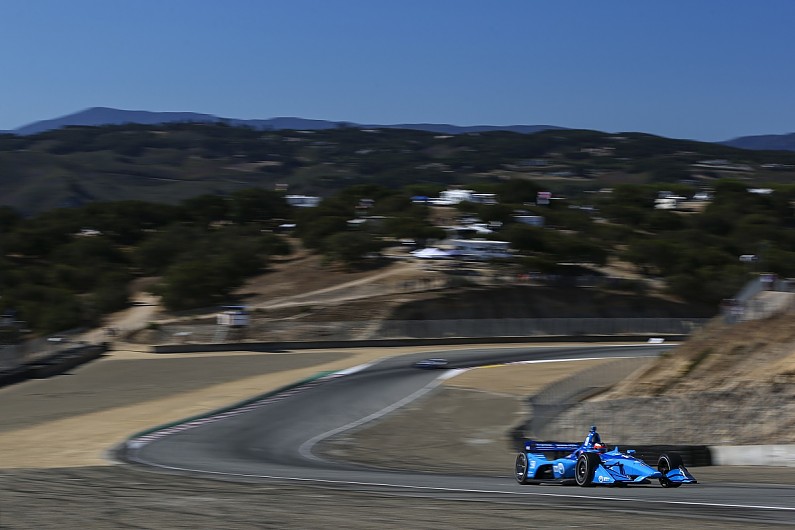 "It was the second lap on blacks, which doesn't mean anything.
"We were working for three days for this moment, we had the fastest time on-track and the guys have been doing an incredible job.
"I think it's really unfair for them to just take that away, honestly one of the most stupid decisions I've ever seen."
When asked if he would speak to the stewards about the decision, he replied: "It doesn't matter. They ruined our day, maybe someone had something against me, they want [Colton] Herta to win the rookie championship or whatever."
Rosenqvist goes into the race as the leading rookie in the championship, in eighth overall.
He is currently 26 clear of Santino Ferrucci and 48 ahead of Colton Herta, with 100 available in the double-scoring event.
Herta took pole position for the race, while Ferrucci starts 12th.