One-time IndyCar champion Will Power says he "won't play games" and influence the title fight between his Penske team-mates Josef Newgarden and Simon Pagenaud, as well as Andretti's Alexander Rossi.
Power, who finished second in testing at Laguna Seca on Thursday, says he will help Penske in the title fight, but only by taking the victory and as a consequence hurt Rossi's title bid.
---
How the IndyCar title can be won
As it stands, Newgarden leads Rossi by 41 points, Penske team-mate and 2016 champion Simon Pagenaud by 42 points, and defending champion Scott Dixon by 85 points.
For Newgarden, the title can be wrapped up by finishing fourth or better as even if Rossi wins and scores all bonus points, as he would be unable to make up sufficient ground.
Even fifth could be enough for Newgarden, but only if Rossi and Simon Pagenaud fail to clinch any bonus points alongside victory at Laguna Seca.
A sixth title for Scott Dixon is looking very unlikely as he would require victory and a full set of bonus points, Newgarden finishing 23rd in a 24-car field, as well as Rossi and Pagenaud finishing sixth or worse.
---
Victory would mean Power ends his 2019 season with three wins out of the last four races, having fallen out of title contention amid a mid-season dip in form.
"That would definitely help [winning at Laguna]," he said. "In Josef's case, it makes it harder for the other guys to get him.
"We'll see where we qualify, where the team-mates are.
"Obviously, the main thing for this weekend is for the team to win the championship.
"If we qualify on pole, that makes it an easier job for me. That's definitely the aim."
Asked if he had a preference as to which team-mate won the title, Power said: "I do not.
"I never play those games. Definitely not favouring anyone in the championship. They're both there.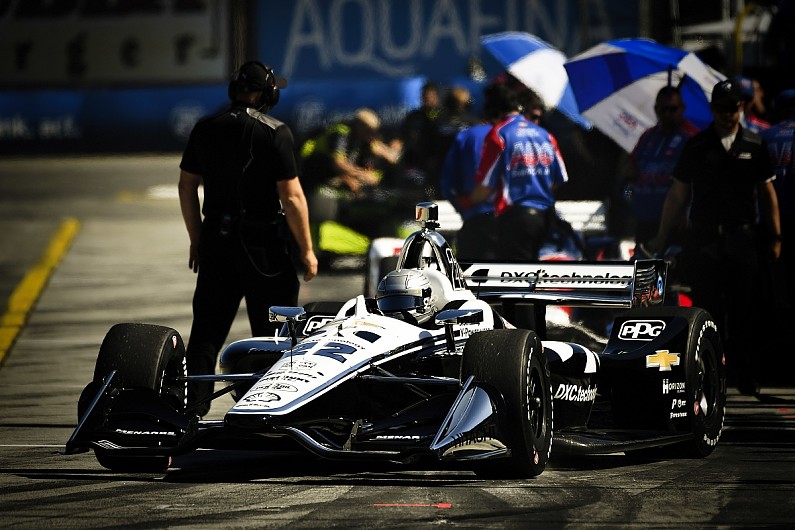 "They both deserve it – including Rossi [as well]. I know how hard it is to get to that point.
"You got to give the guys that have made it and who have a chance a lot of respect, honestly. You can't be playing any games out there…
"It's going to be different for Simon and Josef. I'm not in the game. Simply for me, it's whatever those guys need.
"If I'm ahead, on pole, then it's [about] taking points away [from Rossi]. Win the race and make it much harder for someone else to win the championship.
"I understand my position. Those guys would do it for me if the positions were reversed."