Max Verstappen says he and Lewis Hamilton gave each other "respect" in their fight for Brazilian Grand Prix victory, and battling the Formula 1 world champion is "always more satisfying".
Despite starting from pole position Verstappen had to pass Hamilton twice to win in Brazil, because Mercedes' strategy calls kept giving Hamilton track position.
Verstappen's first pass came shortly after his first pitstop when he blasted past on the inside on the run to Turn 1, while his second move followed a safety car restart as he made the most of fresher tyres to tough it out around the outside at the same corner.
"It was good," Verstappen said of the fight.
"If you can battle against the world champion it's always more satisfying than battling someone for P10 or whatever.
"I think it was a good battle and we gave each other enough room. Just enough. But I think it was cool."
Verstappen said he was not sure Red Bull's decision to stop him under the race's penultimate safety car, which dropped him behind Hamilton and set up his race-winning move, was going to work.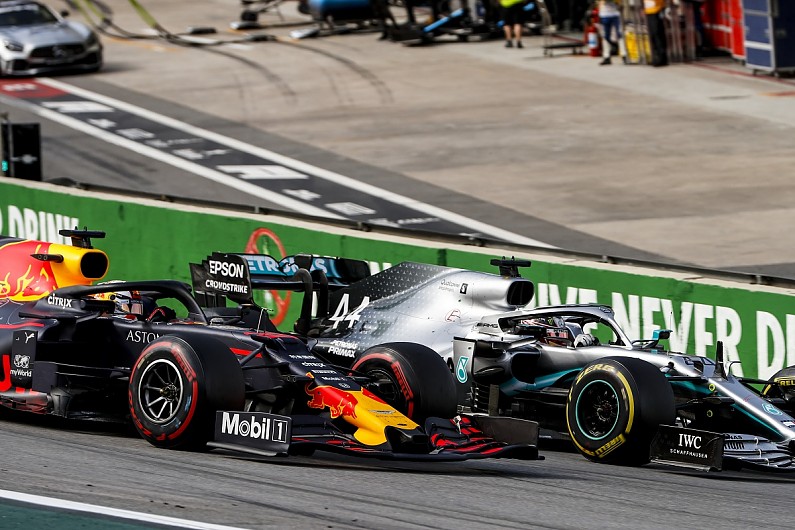 "But immediately at the restart I had a good tow off Lewis and went around the outside," he said.
"We had a good battle in Turn 1 and again in Turn 4.
"Then you could see that the tyre advantage really helped me of course and we could stay in first and control the race."
Verstappen and Hamilton came to blows in the recent Mexican Grand Prix, which led Hamilton – and Sebastian Vettel – to criticise Verstappen's handling of wheel-to-wheel combat.
However, Verstappen said he and Hamilton enjoyed "great racing" in Brazil.
"It was not easy, Lewis had good pace, I think they were again strong in the race and we had to work as a team very hard to make the right calls," Verstappen told MBC Action.
"When we went back on the soft tyres, I think that that saved us today.
"Of course the move on the outside was good but you could see we were respecting each other a lot, also into Turn 4 again, so it was just great racing."
Verstappen added that his first move was not because of a massive advantage for his Honda-powered Red Bull over Hamilton's Mercedes.
"We had good power but I think he also didn't expect me because he was clipping [ran out of battery charge] already so he didn't press the overtake or anything.
"So that's why it looked much better than it actually was. I was on full power and he didn't expect it."