Martin Truex Jr says his Las Vegas NASCAR Cup win vindicates the direction his Joe Gibbs Racing Toyota squad has been working in, despite an extended run without victories.
The current Cup Series points' leader and 2017 champion hadn't won on an oval since Charlotte in May, despite feeling like he has had the car to do so on multiple occasions and being one of three drivers to take four wins this season before Las Vegas.
Truex Jr – who moved to Joe Gibbs for this season from Furniture Row Racing – took the lead from Kevin Harvick with 20 laps remaining at Las Vegas to seal a fifth victory of the season, and winning the first race of NASCAR's playoff points system.
"I think a lot of people have been like, 'Where has the No. 19 been? We don't expect them to be that strong.'" said Truex after ending a run of three races not finishing higher than 13th.
"We know what we can do. When we live up to our potential, it makes us all happy.
"We've had a stretch of six or seven races that we've been really strong in.
"We feel like we've had cars capable of winning.
"We honestly don't have a whole lot to show for it.
"We had no bonus points in that stretch. It was getting frustrating.
"But we knew we were really fast, we knew we were working on the right things.
"I knew the team was doing a great job.
"[The win] is kind of like for us inside of our minds, it's kind of an indication that, 'Hey, we were doing the right things, we are doing the right things.'
"When we can get things to roll our way, not make any mistakes, this is what we can do."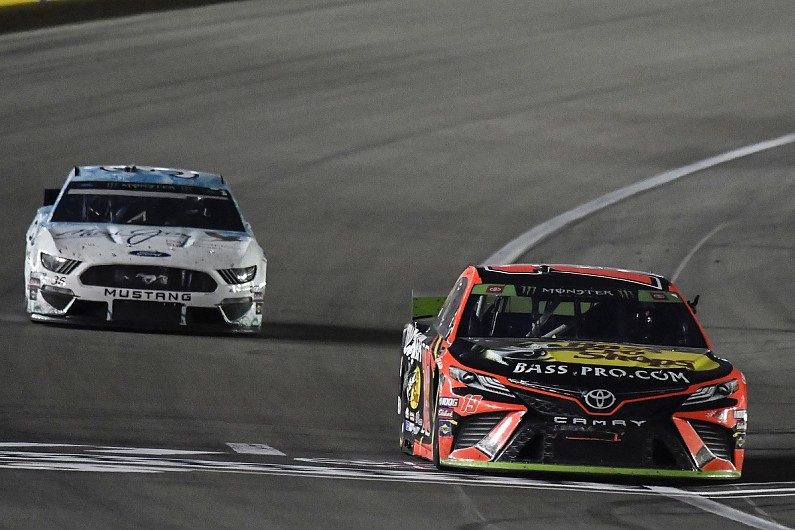 The win guarantees that Truex will make it to the next stage of the playoffs, so he can finish anywhere over the next two races and still make it through to the next stage as he fights for a second title and to go one better than his runner-up finish last year.
Truex's crew chief Cole Pearn said the result was like getting a "monkey off our back".
"You work really, really hard just to be disappointed every week. It's huge when it goes right," he said.
"You think about it, you can win eight races in a season and have the best career year, but that means you're probably miserable 30 other weeks.
"The ratio is not very good. [It's] definitely a lot more fun to win, just to get the monkey off our back.
"Hopefully, like Martin said, just keep running well these next couple weeks."