A row over alleged deviation from the prescribed route of a Rally GB chicane could have a significant impact on the result of this weekend's World Rally Championship round.
Sebastien Ogier, Thierry Neuville and Andreas Mikkelsen are all understood to have deviated from the route at a chicane following the finish of the short Slate Mountain stage on Friday afternoon.
Autosport understands event officials are aware of some competitors not driving the chicane in the same way they negotiated it on the recce.
Asked about his approach to the chicane, Neuville told Autosport: "The chicane was completely different to how we found it on the recce.
"This sort of thing is always happening when we have chicanes like this, it's never the same like the recce.
"We come over the finish and don't know where to go because the [straw] bales are far apart.
"But anyway, there is no advantage when we are past the finish anyway."
The feeling among some other crews is that even though the chicane was not part of the active stage, a conscious decision not to take it would offer the driver the opportunity to carry more speed across the finish line.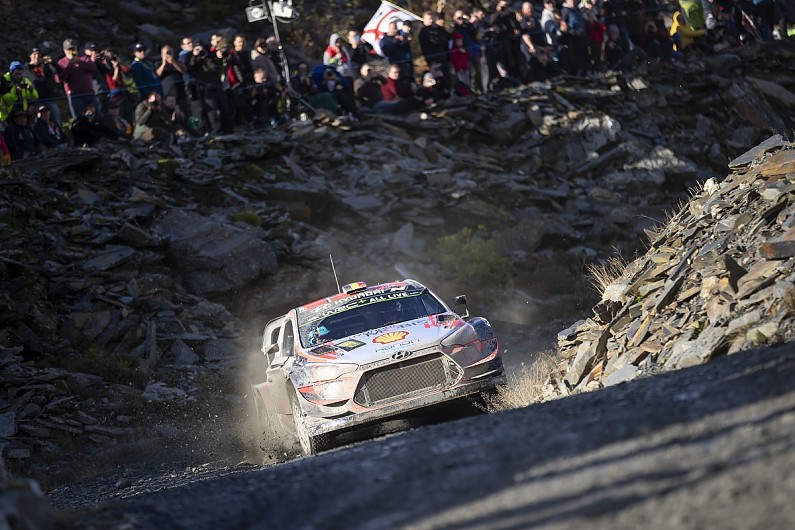 Neuville set the pace on the stage with a time 0.9 seconds faster than Hyundai team-mate Mikkelsen. Ogier was joint third fastest with Elfyn Evans and Craig Breen.
One team insider told Autosport: "We've seen the video from the recce and from the rally – the chicane's not so different. And how then did the other crews make the turning correctly?
"The roadbook is clear about this, like the roadbook was clear about the turning in Argentina earlier this year when we saw some of the cars having the 10s penalty for going the wrong way through the gate.
"It's a little bit shit that these things are happening and it's right that we should always be clear that there is nothing changing from the recce to when the guys are coming in the rally."
There has not yet been any official indication of a protest being lodged against the drivers who deviated at the chicane.
WRC points leader Ott Tanak ended Friday at the head of the field by 3.4s over Ogier and Kris Meeke, with Neuville and Mikkelsen completing the top five.