Darrell 'Bubba' Wallace Jr has hit out at NASCAR Cup Series rival Alex Bowman after throwing water over the Hendrick Motorsports driver following clashes in the Charlotte Roval race.
The pair clashed twice in the race that set the Round of 12, including a first-lap coming together in which Bowman braked too late and hit Wallace's car as he spun, causing the pair to pick up penalties for missing the backstretch chicane.
Wallace was said to have given Bowman the middle finger on multiple laps following their clash, before Bowman then struck Wallace at the backstretch chicane once again on lap 42 of 109, forcing the Richard Petty Motorsports driver into the outside wall.
Bowman went on to finish second and made it into the Round of 12, winning a tiebreak over Aric Almirola, while non-playoff contender Wallace was 24th.
Oh. @AlexBowman88 | @BubbaWallace pic.twitter.com/KadVc9rRSI

— NASCAR (@NASCAR) September 29, 2019
Wallace later confronted Bowman in the pitlane and threw water from his drink bottle at his rival.
"He [Bowman] doesn't like to race. He just runs over everybody," Wallace told NASCAR.com.
"He gets to lap one, and he runs over me and the #3 [Austin Dillon] into the back chicane.
"We're back there in the trunk [of the field], man. Just take it easy for a lap.
"He had a fast car and he just runs over us.
"Shoot us through the chicane, and then we get a penalty for it.
"Every time he gets to me, he just runs over me."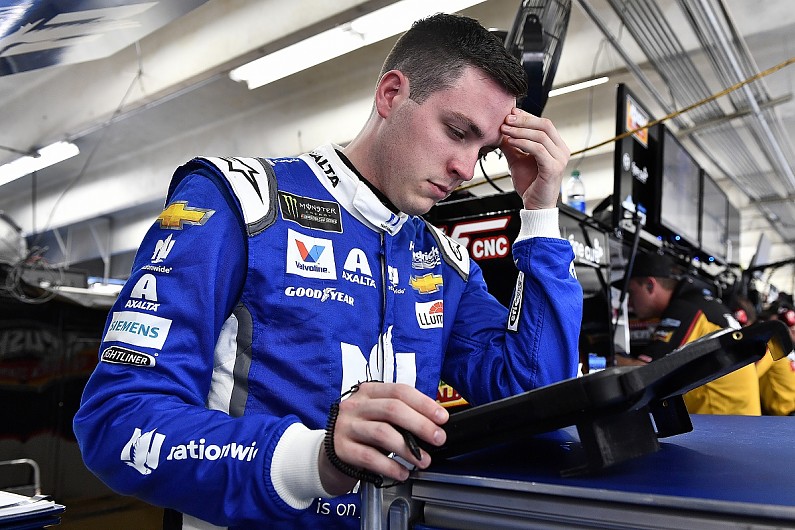 Bowman went to the infield care centre following the race, and was later being attended to by medical staff when Wallace came over and confronted his rival.
Wallace added it was a "smooth move of playing the sick card so I couldn't bust him in his mouth".
Bowman claimed he had been sworn at "every single straightaway for three laps" by Wallace early in the race.
Bowman added: "I got flipped off by him for three or four laps in Richmond, so I was just over it.
"I gotta stand up for myself at some point, right? Probably wouldn't have gotten wrecked if he had his finger back in the car."
Speaking about Wallace throwing water over him, Bowman said: "I probably shouldn't repeat what he said to me, but nothing classy by any means.
"I get it, I'd be mad too, but he put himself in that spot."