Freshly-crowned double IndyCar champion Josef Newgarden says he was "dreading" the "chaotic" double points finale at Laguna Seca, which the Penske driver "hated".
Newgarden finished eighth with his closest title rival Alexander Rossi in sixth place, and it was enough to give the former a second title following his 2017 success.
The Penske driver added his second title was "more special" than his first and that he was more "emotional" than he was after his 2017 crown.
"I'm just happy it's done with, to be honest with you," said Newgarden following his second title win.
"I've been dreading the last couple weeks because I don't think it really hits you until you get finally to Laguna – or after Portland I should say, [with] two weeks to go, because then you really realise the points situation.
"It's just such a stressful deal with double points. I hated it.
"I hated thinking about it, and I know we didn't build up enough of a gap to make it super-easy on ourselves, and I was just kind of dreading it, to be honest with you.
"I was just happy we were able to get through today. It was kind of a chaotic event. There were moments where I didn't think it was going to go our way."
Newgarden and his Penske team set out with the strategy to shadow Rossi – in a race which was won by rookie Colton Herta – in order to protect Newgarden's 41-point lead.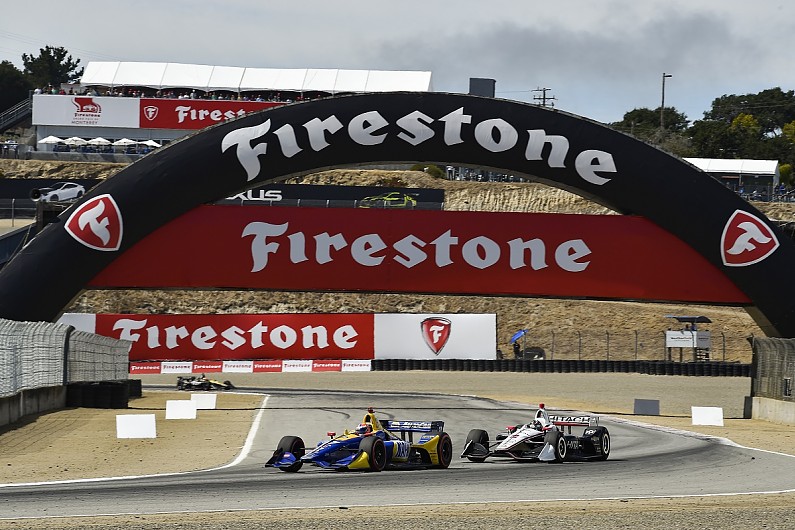 But during the second stint after switching to the harder Firestone tyres, he felt an as yet undiagnosed issue with his car.
"My goal was to shadow Rossi, and that's either going to be in my favour or it's not," Newgarden added.
"And it looked like it was coming out of that favour, that sort of strategy. But I had to stick to the plan.
"Our goose was kind of cooked after the first stint. It was like, look, you've made your bed, this is what it is.
"I do think we encountered a problem today, though. I don't know what happened. My first stint was very good. The car felt normal.
"Rossi was really slow in front of me towards the end, and I was just doing my game. I was shadowing him.
"I was nervous he was going to wreck me if I tried to pass him. It sort of seemed like it.
"But then the second stint, as soon as I went to black tires, it was like something just happened.
"It was like we dropped a bunch of downforce, or a shock went out or something like that, and I was really struggling with the car, but I was still keeping with my objective to shadow Rossi to the finish."